GRIDCO Donates to Geomatic Engineering
Thu 28 Mar 2019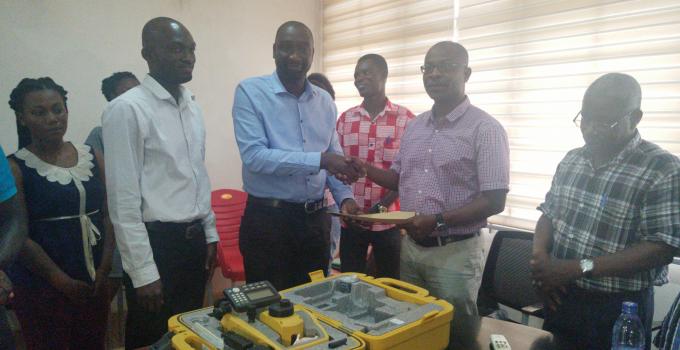 The Ghana Grid Company Limited (GRIDCO) donated to the Department of Geomatic Engineering the following instruments:
Sokkia Set 2c Total Station (1)

Sokkia Set 330RK3 Total Station (1)

Topcon E Series Total Station (1

Stratus GPS receiver(s) (1)

Planimeter (1)

Tripod (2)

Reflector (2)
The donation was done by Surv. Martin Kodjo and Surv. Kingdom Galley from the Lands and Environmental Management Section of Engineering Planning and Designs in GRIDCO. In a speech given by Surv. Kodjo, the instruments donated by GRIDCO will assist the department to deliver practical-oriented training to students. He also remarked that it was their own way of giving back to the institution that has made them who they are today.
The Head of Department Dr. Jonathan Arthur Quaye-Ballard expressed gratitude and mentioned how important the instruments meant to the department at this time, considering the growing population of the students. He explained that the student ratio to instruments was not encouraging due to few available instruments hence making it a challenge for students to undertake practical training.
Dr. A. A. Acheampong and Dr. Quaye-Ballard made an appeal to GRIDCO to accept students for attachments during long vacation especially in the field of surveying to help them have an experience from industry thereby bridging the gap between academia and industry. The Head of Department also hinted on the integration of Geographic Information of Systems (GIS) in the dealings of GRIDCO by expressing the department's readiness for a collaboration. Dr. S. A. Andam Akorful also explained that the department was running an MPhil/MSc programme in GIS of which interested people from GRIDCO could undertake.
The Vice Dean, Prof. Geoffrey Kwame Anornu expressed appreciation to GRIDCO for their kind gesture and admonished that this should not be the end and that the doors are open for more instruments and assistance to help make teaching and learning easy and practical-oriented.