Commissioning of LISAG Postgraduate Study Room and Board Room
Tue 29 Oct 2019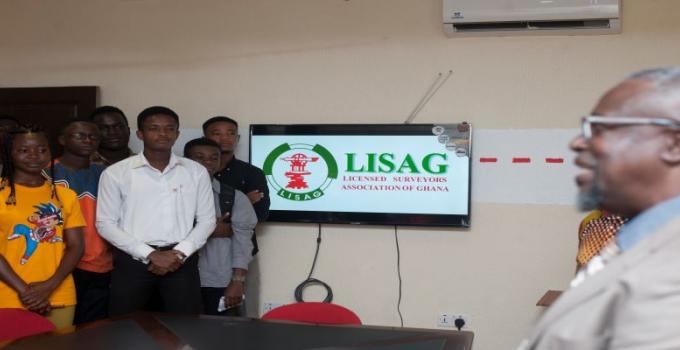 The Licensed Surveyors Association of Ghana (LISAG) as part of the M.O.U. with KNUST has contributed to the refurbishment of a section of the N-Block into a board room, postgraduate study room, two male toilets, one male urinal and one female toilet for the Department of Geomatic Engineering.
LISAG under the leadership of Mr. Kwame Tenadu (President), Dr. Edward Matthew Osei Jnr. (LISAG Ashanti Regional Coordinator) and Mr. Gustav Kplom Asamoah (LISAG Executive Director) embraced the appeal from Dr. Jonathan Quaye-Ballard (Head of Department) in refurbishing a section of the N-Block.
The aim is to provide conducive teaching, learning and research atmosphere for postgraduate studies. The commissioning was held on the 1st of October 2019 in the presence of Prof. Eric Forkuo (Dean of Faculty of Civil and Geoengineering), Prof. Geoffrey Anornu (Vice Dean), Dr. Jonathan Quaye-Ballard, Mr. Kweku Appiah Badu (Senior Assistant Registrar), other faculty members, student representatives from the Association of Geomatic Engineering Students (AGES), teaching and non-teaching staffs of the Geomatic Engineering Department and the media (Tek TV). LISAG was represented by Mr. Kwame Tenadu, Dr. Edward Matthew Osei Jnr. and Mr. Stephen Asiedu (LISAG Executive member).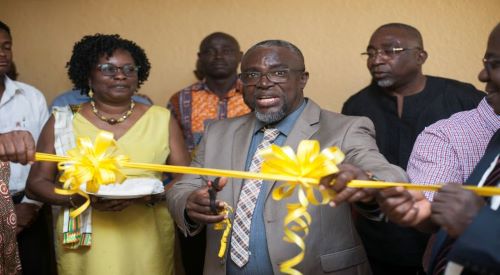 In a speech given by Mr. Tenadu, he asserted that the present and future has left the analogue days, everything will be digital and around the internet of things for which geomatic engineers must fit in. He assured the department of the support of LISAG to bridge the gap between industry and academia. He re-emphasized on the unrelenting commitment to honour the M.O.U. LISAG has with KNUST stating the willingness to provide not only the facilities but also provide the resources like computers to the department. He also pledged to help students for as long as they were willing and ready to avail themselves for the support.  He stated that LISAG on yearly basis will throw challenges to the students to move the department forward.
Dr. Isaac Dadzie made an appeal for computing facilities to process big data. He also put forward a challenge to students to improve surveying considering the availability of LIDAR and drone technology.
Rev. Dr. John Ayer expressed appreciation to LISAG for continuous collaboration. He expressed the desire of the department to build a center of excellence for spatial research and services. He asked for the unrelenting support of LISAG to make the dream to have a spatial center a reality.