Admission to MSc. Geomatic Engineering (Land Administration Management Option ) 2019/2020 Academic Year
Mon 20 May 2019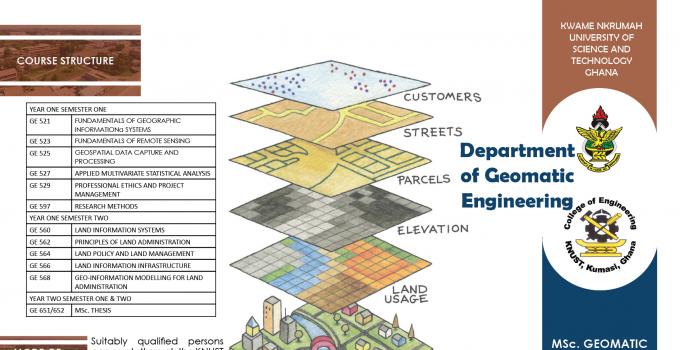 About the program:
Geomatic Engineering is a field of activity that integrates the acquisition, processing, analysis, display and management of spatial information. It includes the disciplines of Photogrammetry and Remote Sensing, Land and Engineering Surveying, Geographic Information Systems (GIS), Cartography, Geodesy, Hydrography, Cadastral Surveying and Land Information Management. It is an exciting grouping of subjects in the spatial and environmental information sciences with a broad range of employment opportunities in fields such as civil engineering, cartography, assets management, monitoring environmental hazards, etc.
In view of the broad disciplines of Geomatics, the MSc. Geomatic Engineering program is structured for students to specialize in one of four options, one of which is Land Administration Management.
The aim of the program is for students to understand and apply concepts and technologies in managing cadastre, land tenure systems, land conflict management and land use planning in a sustainable manner.
Objectives:
At the end of the program, students are expected to:
Understand the social, economical and environmental importance of land and the land administration process as pertains to particular country situations

Understand and design Land Information Systems (LIS) for land administration and evaluate its challenges in cross-organisational environments

Design land administration systems for specific country contexts

Understand the application of geospatial technology to land administration systems

Examine the role of government intervention and policy in creating conditions for sustainable land management

Analyse local and overseas approaches to land administration in both developed and developing country contexts for sustainable development
Duration:
The MSc. Geomatic Engineering – (Land Administration Management option) shall be of two (2) years duration. The first year will be two (2) semesters of taught courses and the second year will be for supervised research and thesis report preparation.
Download brochure for more information.